Micro M10 GPS
Save

0

%
Save %
Original price
R 799.00
-
Original price
R 799.00
These Micro GPS uses multi-constellation GNSS powered by u-blox M10, a concurrent GNSS receiver which can receive and track multiple GNSS systems. Owing to the multi-band RF front-end architecture all four major GNSS constellations, GPS,Galileo, GLONASS and BeiDou can be received concurrently. It also comes with the IST8310 compass.

The high-gain 25 x 25 mm2 patch antenna provides excellent performance and the omnidirectional antenna radiation pattern increases flexibility for device installation. It features active circuitry for the ceramic patch antenna, rechargeable backup battery for warm starts. 

Firmware Support for M10 GPS: PX4 1.14, ArduPilot 4.3, INAV 5.0.0, Betaflight 4.3.0 or newer is required.

Features



Newest Ublox 10th Gen GNSS
Fast & Accurate Positioning
IST8310 Compass
Small Form Factor 
Specifications:

 
Holybro Micro M10 GPS
Holybro Micro M9N GPS
GNSS Receiver
Ublox M10
Ublox M9N
Number of Concurrent GNSS
Up to 4 GNSS
- BeiDou
- Galileo
- GLONASS
- GPS
- QZSS
Up to 4 GNSS
- BeiDou
- Galileo
- GLONASS
- GPS
- QZSS
Frequency Band
- GPS L1
- Galileo E1
- GLONASS L1
- BeiDou B1
- SBAS L1
- QZSS L1
- GPS L1
- Galileo E1
- GLONASS L1
- BeiDou B1
- SBAS L1
- QZSS L1
Compass
IST8310
IST8310
Output Protocol
- UBX (U-blox)
- NMEA
- UBX (U-blox)
- NMEA
Accuracy
2.0m CEP
1.5m CEP
Nav. Update Rate 
Up to 25 Hz (single GNSS),
Up to 10 Hz (4 concurrent GNSS)
Up to 25 Hz (4 concerrent GNSS)
GNSS Augmentation System
EGNOS, GAGAN, MSAS and WAAS
QZSS: L1S
EGNOS, GAGAN, MSAS and WAAS
QZSS: L1S 
Default Baud Rate
115200
115200
Input Voltage 
4.7-5.2V
4.7-5.2V
Port Type
JST-GH-6P
JST-GH-6P
Antenna
25 x 25 x 4 mm ceramic patch antenna
25 x 25 x 4 mm ceramic patch antenna
Power consumption
Less than 200mA @ 5V
Less than 200mA @ 5V
Operating Temperature
-40~80C
-40~80C
Dimension
- 32 x 26 x 9mm (w/o Case)
- 34 x 28 x 11mm (With Case)
- 32 x 26 x 9mm (w/o Case)
- 34 x 28 x 11mm (With Case)
Weight
- 14g (w/o Case)
- 16g (With Case)
- 14g (w/o Case)
- 16g (With Case)
Other
- LNA MAX2659ELT+ RF Amplifier
- Rechargeable Farah capacitance
- Low noise 3.3V regulator
- LNA MAX2659ELT+ RF Amplifier
- Rechargeable Farah capacitance
- Low noise 3.3V regulator


PIN MAP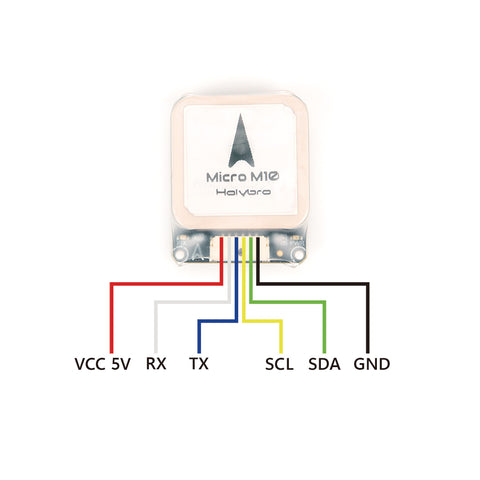 Reference Link
Package Includes:

1x Micro GPS module *1

1x JST GH 6 Position Connector 15 cm

1x JST-GH 6pin Colored Silicon Cable 15 cm