---
---
Released on March 1st, 2019, the all new X1 Pro is Exway's second-generation electric skateboard.   Packed with new features while still maintaining it's ultra slim, lightweight design, the X1 Pro is the board for you.
We are now taking PRE-Orders for out first batch of X1 Pros.  We are offering a massive discount of R3000 off to PRE-ORDER customers.  Get your order in now!
Range, range, range!
You spoke and we listened.  We increased our battery capacity from 120 watt hours to 193.  Now enjoy over 50% more range on a the all new Exway X1 Pro.  Ride 16 miles on the fastest charging, most advanced, electric board ever.
85mm wheels:
Our new urethane formula provides better rider feedback and better wear.  With bigger stock wheels you will notice immediate performance enhancement and elevated top speed.
Turbo power:
We took the X1 Pro to the next level by adding Turbo mode.  Not for the faint of heart, turbo mode increases the power from 1000 to 1200 watts.  Hang on tight, because the X1 Pro is a Speed Demon with a top speed of 29 MPH.
3mm Cushioning grip tape:
Standard on every X1 Pro, our cushioning grip tape smooths the ride while still keeping our board IP-55 water resistant.
Fully upgraded hub motors:
– The Exway X1 Pro bearings have been upgraded allowing for a more water resistant, robust, and reliable ride.
– The X1 Pro has more power and torque than its predecessor.  The motor power has been increased from 1,000 to 1,200 watts.
– The fully enclosed hub motor are not only maintenance free, but more powerful and quieter than ever. 
– Anti-Drag motor design. You can freely kick your X1 Pro just like you can your old-school longboard.
*RIOT - Optional belt drive system:
Prefer a belt drive?  We've got you covered.  With the optional Riot system, simply swap the hub motors and replace them with belts.  The Riot system screams and will be available in April.  
New wheel formula: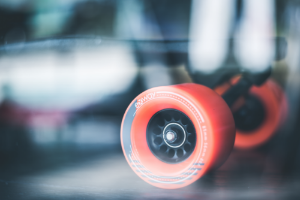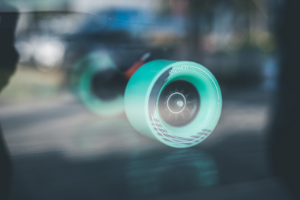 The new 85mm wheels come stock on the X1 Pro. Featuring an all new tech savvy gel core,  these wheels gives you more control, faster roll, and will last longer.  Enjoy intuitive feedback without sacrificing traction.
The X1 Pro is now smarter than ever:
With Field Oriented Control (FOC) motor design, you can shred with confidence because you have the most reliable board in the world.  State of the art sensors are placed throughout the Pro, so your board is constantly thinking, reporting, and adjusting to your riding style.  You will always feel at home on the X1 Pro whether you are on your first electric skateboard, or you are a high speed shredder.
The smartest ESC in the business:
– Proprietary to Exway, the ESC is always computing to alert you of any problems that your board experiences.  
– If your X1 Pro detects unusual conditions, your remote will let you know by vibrating and displaying the error on the OLED screen.
– Overcharge, overvoltage, and overheat protections built in.
1.5mm added thickness brings 56% higher range:
It's not just a statistic, it's pure science.  Our decks are thin, real thin.  They allow us to keep the lowest profile boards available.  Not only have we increased our battery capacity, we have also adopted an all new EBS regenerative braking system allowing you to get 56% more range out of the X1 Pro.
R1 – Intelligent remote control: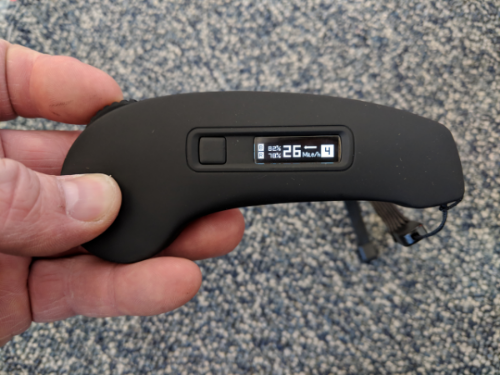 -The refinished Pro remote now has a more ergonomic grip and better skin coating for that grip that won't quit.
-With a Holzer type rolling throttle design, enjoy a more precise throttle control than before.
-Our traditional 4-speed mode is one of the things we knew people loved about the X1.  So, we didn't change it.
The perfect amount of concave:
– We are control freaks. We have found the absolute optimal amount of concave in our decks.
– Carve better, carve harder, with your feet cradled into place on the deck of a truly precise board.
– We will never compromise, which is why we are still using Industry leading 45 degree Seismic Aeon Trucks.  They rock!
Here is the latest review of the X1 Pro:
http://www.electricskateboardhq.com/exway-x1-pro-review/
Exway X1:
      
The Original Exway Board:
If you want the lightest board on the market and don't need the added range, the Exway X1 has lead the path of innovation and technology in the electric skateboard market.  This board has all of the perks of the X1 Pro but without all of the bells and whistles.   On a budget but still, want a ridiculously sweet electric skateboard?  Then the X1 is the board for you!
No longer just a last mile solution, the Exway X1 electric skateboard is the perfect balance of traditional longboarding and technology.  Weighing in at 14 pounds, this dual-hub motor electric skateboard is one of the lightest and most powerful boards on the market.  With speeds of up to 25 mph, the ability to attack hills with more than 30% grade, and up to 10 miles of range, the Exway X1 blows doors on the competition. Shred your neighborhood in style on the sleekest board out there, the Exway X1!
Intelligent core:
Our custom sensored Field Oriented Control (FOC) ESC is the best ESC in the industry. Starting in sensored mode and transitioning to sensorless mode allows for an incredibly smooth and progressive acceleration curve, while maintaining a ton of power on the top end.  When you want to slow down, our regenerative electric brake is super reliable and helps to add back some charge to the battery.
Direct drive brushless motor:
Our high performance, direct drive brushless motors are high efficiency, fully sealed hub motors that are water-resistant, dust-proof, and virtually maintenance free.
With max power of 1,000 watts x2, up to 30% hill climbing ability, and no belt drag, you've never felt an electric skateboard like this!
Redesigned even move powerful dual hub motors
Top speed 46km/h (with turbo)
Hill grade – 30%
Range – 25km's
Turbo mode
Quick charging compatible
85mm wheels with an extra set of rear 85's in the box (compatible with 80 & 83mm)
Vibration absorbing grip tape
Riot compatible
---