BetaFPV F405 2-4S 20A AIO Brushless Flight Controller (BLHeli_S) V3
Sold out
Original price
R 1,299.00
-
Original price
R 1,299.00
Original price
R 1,299.00
F405 2-4S AIO 20A Brushless Flight Controller (BLHeli_S) V3 has been updated the F411 chip to F405.  The 20A F405 AIO FC decreases the board thickness from 1.6mm to 1.2mm, which reduced the weight to 5.3g while improving the ability of the ESC to continuous current 20A(22A burst).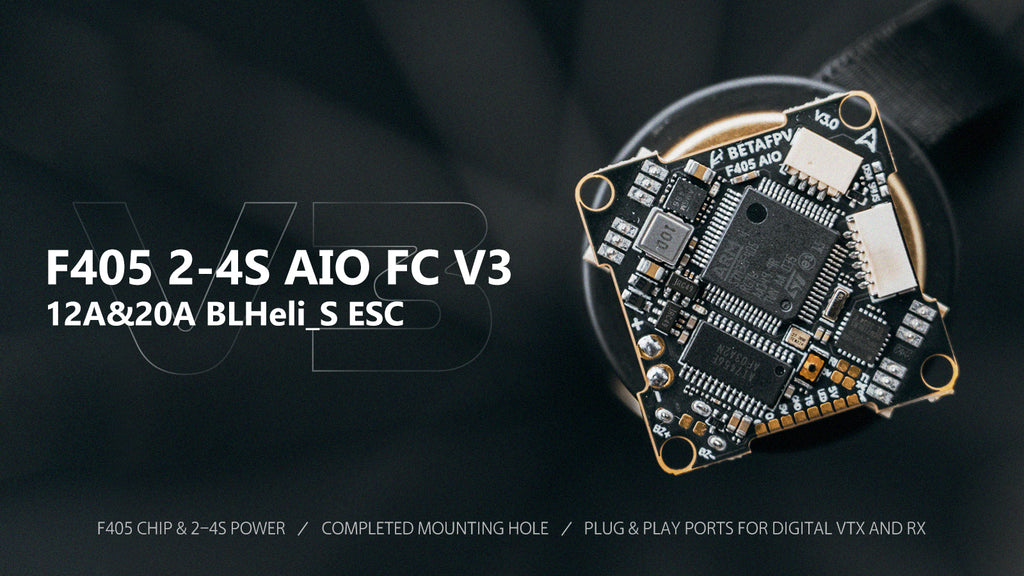 Bullet Point
Updated the F411 chip to F405, this new 20A board can handle 20A continuous current(22A burst), giving the pilots a powerful flight.
Come with 2 integrated Plug & Play Ports for both digital VTX and Rx, less solder work needed, easy to install.
Completed the traditional mounting hole, more like the Toothpick type, perfectly prevent the damping pad from falling off, which is the super-easy installation in most whoop frame.
BETAFPV 20A AIO flight controller will unify the UART, which is convenient for pilots to solder.
Compatible with 110X, 120X, 140X motors, pilots can use the 20A AIO FC to build a bigger quad with this powerful FC to save weight and size.
Comparison of F4 12A AIO FC V2, F405 12A AIO FC V3 & F405 20A AIO FC V3

Specifications of F405 20A AIO FC V3
CPU:

STM32F405RGT6

Six-Axis: MPU6000
Size:

26mm x 26mm

Firmware version:

Batefight-BETAFPV405-4.2.X

OSD:

Built in BetaFlight OSD (STM32 controls OSD chip over SPI in DMA mode)

Receiver: Support Frsky XM/XM+ Receiver/ Futaba Receiver/ Flysky Receiver/ TBS Crossfire Receiver/DSMX Receiver
Connecter: XT30

(Suitable for XT30/XT60)

Weight: 5.3g
Specifications of ESC
Support

PWM, Oneshot125, Oneshot42, Multishot, Dshot150, Dshot300,Dshot600

Input voltage: 2S-4S Lipo
Continuous current: 20A
Peak current: 22A
Firmware:

BLHELI-S G-H-25
Diagram for F405 20A AIO FC V3 & F405 12A AIO FC V3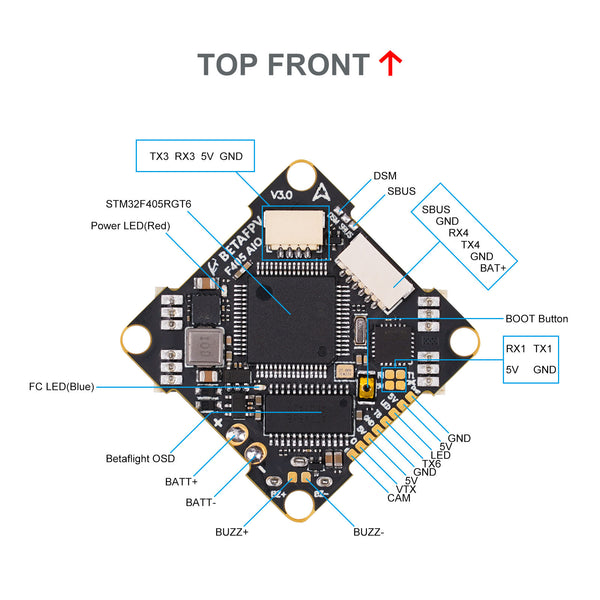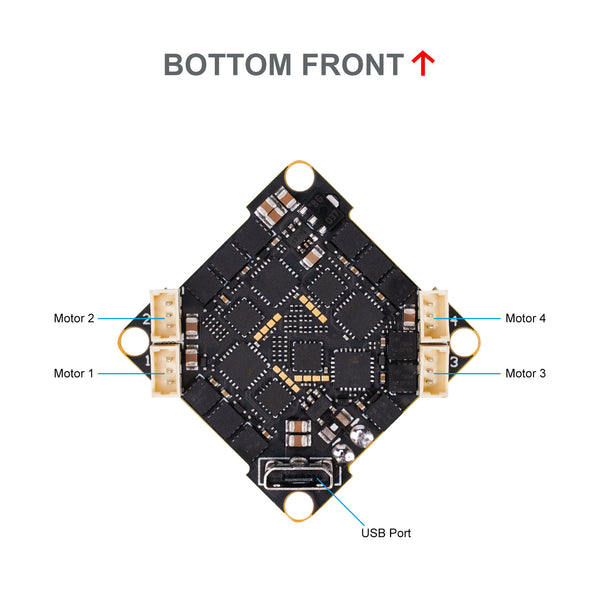 Status LED for F405 20A AIO FC V3 & F405 12A AIO FC V3
There are 2 LEDs on the bottom of the board to indicate the status, including the Power LED ( Red), FC LED(Blue).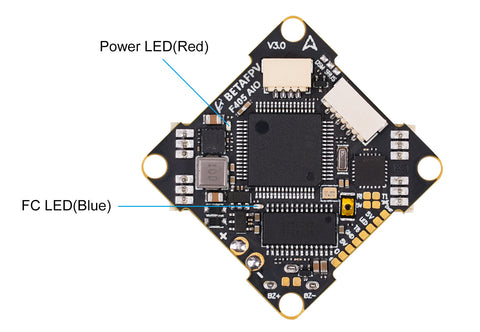 | | | |
| --- | --- | --- |
| LED | Status | Description |
| Power LED ( Red) | Solid | Power on |
| FC LED ( Blue ) | Solid | Motor Armed |
How to Connect the External Rx to F405 20A AIO FC V3 & F405 12A AIO FC V3
The new AIO board has the Plug & Play Port for the external Rx, and there will be a 4-Pin connector for Rx in the package, pilots can enjoy less soldering work, easy for installation. In addition, when you connect the different external Rx, the pads near the pin need to be soldered as the following diagram.




Package
1 * F405 20A AIO FC V3 or F405 12A AIO FC V3
4 * M1.2x4mm screws
4 * M1.4x5mm screws
4 * Anti-vibration rubber dampers
1

* 6-Pin Connector for Digital VTX

1

* 4-Pin Connector for Rx